Shadows over Innistrad – The Gift Box Arrives May 13th!
Arriving next week on May 13th!
I love these items! You almost pay for the box in boosters alone, and this time the alt-art card is a nice one.
The Shadows over Innistrad Gift Box contains five Shadows over Innistrad booster packs, a storage box, six illustrated plastic dividers, stickers for customizing the dividers, 20 basic lands, and—the part you're interested in—an alternate-art card. That card?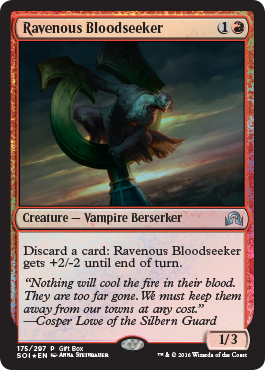 This card also showed up in the Mechanics article already, so you've seen how nasty it can be. But now you can see how shiny it can be!
This is a great value at $24.99!  You can even use your Spot-On discount if you want to.
Hurry down to reserve you gift boxes now!
Please follow and like us: